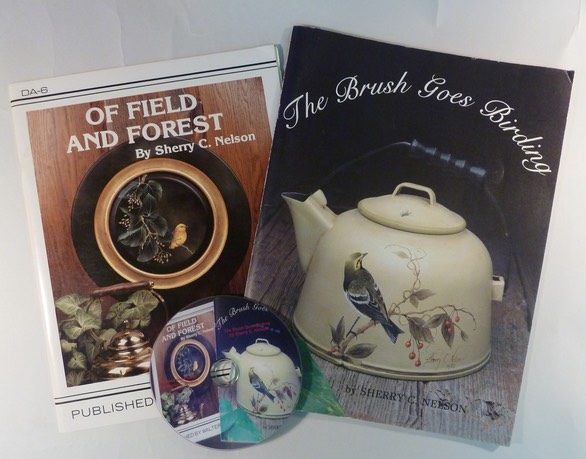 2 Oil instruction Books on CD - Of Field and Forest & The Brush Goes Birding
Both out-of-print books have been scanned - cover to cover - and stored on CD. This is not a video.
Of Field and Forest -medium/Oil; 48 pages + covers; 10 designs (4 Reverse Glass & 6 Oils on wood surfaces) with painted step-by placement sheets and complete painting instruction.

Designs: Orchard Oriole, Bleeding Hearts, Canada Lily (RG), Bufflehead Drake (RG), Country Floral Cabinet, Luna Moth, Yellow Warbler, Barn Swallows, Mountain Lion (RG), Canada Geese (RG).

The Brush Goes Birding - medium/Oil; 80 pages + covers; 15 designs + Parts of a Bird, painting basics; Diagram sheets showing color placement & complete painting instruction for each design.

Designs: Green Kingfisher, Black-capped Chickadee, House Finch, Vermillion Flycatcher, Bobolink, Stilt Sandpiper, Downy Woodpecker, Western Screech Owl, Black-throated Green Warbler, Wood Ducks, Toucan, Blue Grosbeck, American Avocet, Cedar Waxwing, American Kestrel, Green-backed Heron.

CD can be viewed on any computer or on a tv using DVD player or printed in whole or part on your printer.
Please note all instruction and photos are copyrighted by Sherry C. Nelson and may not be used for purposes other than viewing and painting. Content may NOT be copied or sold.