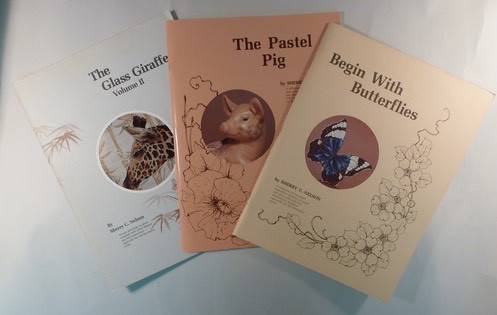 Glass Giraffe II, The Pastel Pig, Begin With Butterflies -on CD
Each Reverse Glass Painting Book has been scanned -every Page... Glass Giraffe  Vol.II- 76 pages + covers; The Pastel Pig - 80 pages + covers; Begin With Butterflies - 80 pages + covers.

The Glass Giraffe II has 20 designs - All RG: Giraffe, Leopard, Big Horned Sheep, Baby Goat, Roadrunner, Seashells, Purple Bloom & Butterfly, Yarrow & Butterfly, BumbleBee & Flower, Horse, Scaled Quail, Eastern Bluebird, Wild Rose, 6 Dog & Puppy designs.
The Pastel Pig has 22 designs - all RG except 5 designs: Pink Poppies, Daisies, Tulips, Folk Art design, Morning Glories. On Reverse Glass: Spring Florals, Racing Horse, Floral Triplet, Ring-Necked Pheasant, Solitary Sandpiper, White Roses, Poppy and Butterfly, Hollyhock, Cardinals and Pine Branches, Mockingbird at the Nest.
Begin With Butterflies has 20 designs three of which are on Reverse GLass. Designs: Butterfly stand-up puzzle, Copper, Calico Pansies, Monarch Butterfly on Zinnias, Morning Glories, Pansies & Bee, Iris & Butterfly, Spring Chick & Butterfly, Checkerspot & Wild Rose, Orange & Butterfly, Dutch Iris & Butterfly, Coronata Hairstreak & Tulips, Butterfly cut-outs, Mayfly & Poppies, Greater Fritillaries & Violets, Sleepy Sulphur, Common Blue, Bachelor Buttons & Butterfly.

All books have patterns, placement sheets, full instructions, and photo.
Also Helpful ...reverse glass painting supplies; How to Do Reverse Glass Painting / DVD - $19.95
CD of the 3 out of Print Books is Available Soon.
CD can be viewed on any computer or on a tv using DVD player or printed in whole or part on your printer.
Please note all instruction and photos are copyrighted by Sherry C. Nelson and may not be used for purposes other than viewing and painting. No content is to be copied or sold.