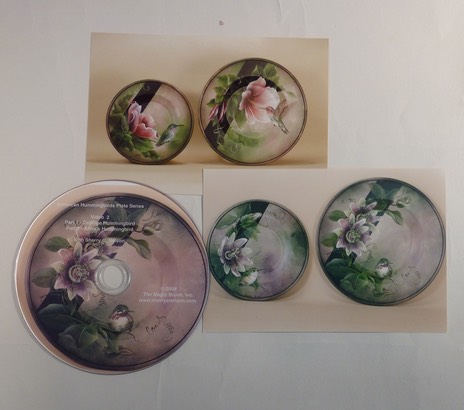 DVD/

Video 2 - Anna's Hummingbirds & Calliope Hummingbirds

  2 hours
Video contains approx. 1/2 hour of painting on each of the two male Hummers - Anna's and Calliope, a bit less on the 2 females of each species, and the balance of time on the floral portion of the design.
$29.95 price of DVD, if purchased alone.
$5.00 savings per set when the DVD plus the 2 hummingbird packets are purchased together -$45.00
The 12 Hummingbird (male & female) plate designs are available individually for $10.00 each :
Costa's Hummingbirds with Orchids 

 Broad-billed Hummingbirds with Angel Trumpet    

                  

*Anna's Hummingbirds with Hibiscus                              

*Calliope Hummingbirds with

Passion Flower  

                   

Lucifer Hummingbirds with Dendrobium Orchids             

Berylline Hummingbirds with Cattleya Orchids  

                
White-eared Hummingbirds with Fuchsia                               
Broad-tailed Hummingbirds with Blue Columbine                    
Blue-Throated Hummingbirds with Trumpet Creeper           
 Magnificent Hummingbirds with Tree Orchids                         
Violet-crowned Hummingbirds with Purple Orchids            
 Black-chinned Hummingbirds with Purple Lilacs                  
Also helpful ... All 12 hummingbird packets  and the additional hummingbird species painted on 3 serving pieces are available in the Wishbook.pdf 
 ... hummingbirds listed above

#5 & #6 are available on Video 3

 and hummingbirds listed above

#1 & #2 are available on Video 1.