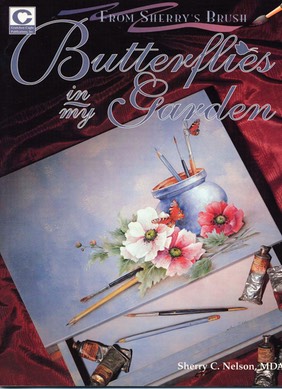 Butterflies in My Garden
32 Pages
Complete instructions, painted steps, and brush-mixed color swatches for all mixes for each design.
7 Designs: Peacock Butterflies & Brushes with Poppies, Monarchs & Sunflower,  Cloudless Sulphurs & Morning Glories, Spring Azure & Forget-me-nots, Red Admiral and Geraniums, Red Rim Butterfly & Rose, Marsyas Hairstreak with Cattleya Orchid,  Common Blue & Bluebird in Basket of Petunias.
Also helpful ... How to Paint Beautiful Butterflies /DVD - $19.95;  How to Paint Fabulous Florals /DVD - $19.95.
Personally autographed to you by Sherry