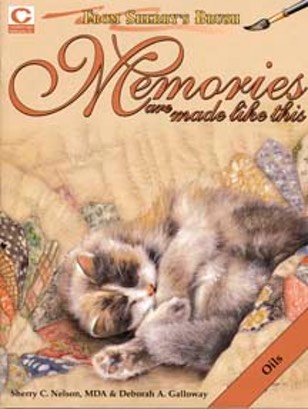 Memories are Made Like This - by Sherry C. Nelson & Deborah A Galloway
32 Pages
Complete instructions, painted steps, and brush-mixed color swatches for all mixes for each design.
Diagrams and instructions to photograph still life set-ups and turn those photos into paintings.
Still life set-up photo for each design and nostalgic images that inspired the design are included.
7 Designs: Cat sleeping in a Quilt, Teddy Bear & Silver Cup, The Copper Kettle, Garden Bonnet, Cloth & China Bowl with Persimmon, Glass Bottles, Porcelain Chocolate Pot & Lace.
Also helpful ... Basics for 1st Time  Oil Painter / DVD - $19.95;  Colors of Summer / DVD - $19.95; Lillies, Glass, & Reflections / DVD - $19.95.
Personally autographed to you by Sherry